QUICKLIS
REPORT TRANSMISSION
QuickLIS transmits findings as encrypted LDT files from your laboratory system to physician offices - in real time.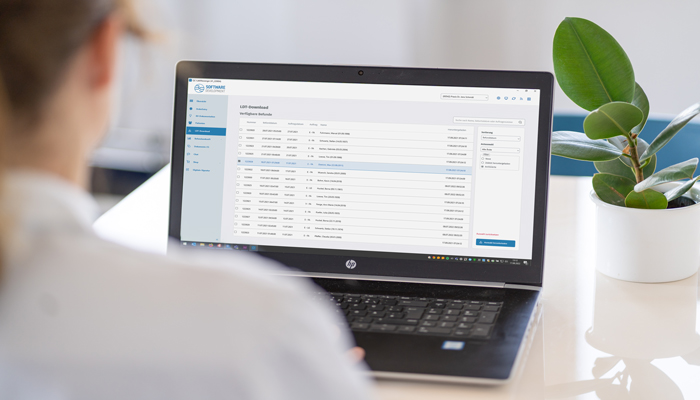 Reliable and future-proof
Do you lose a lot of time resending lost reports to your sending practices? Do you want a stable and future-proof RDT system without having to completely change your existing software environment?
QuickLIS reliably transfers the findings from your laboratory system to the doctor's offices in all these cases.
Findings are transmitted as encrypted LDT files
The sending practice can manage the findings files itself and download them again if necessary.
The findings are stored on the server and cannot be lost
Automatic transfer of data into the physician information system of the sending practice
In case of critical values, the sending practice is informed via a push notification
QuickLIS report transmission can be easily connected to your existing laboratory system
Encrypted LDT files meet the highest security standards and provide a much higher level of security than encrypted e-mail or even FTP clients.
Questions between practice and laboratory can be quickly clarified via chat
Test now free of charge & without obligation
Try out the digital transmission of findings from QuickLIS easily and without obligation!
During a trial period of 6 months, you can test our solution with up to ten of your sending practices free of charge and without obligation. There are no costs for you during this period - even if you decide against our solution afterwards. If you are convinced by QuickLIS, you will only pay after the trial period.
Interested? Then simply send us your contact details. We will contact you and discuss the details with you.
With which LIS, AIS and HIS are the QuickLIS modules compatible?
QuickLIS is compatible with a wide range of laboratory information systems, hospital information systems and physician information systems. We would be happy to review your case. Just contact us.
Does QuickLIS support LDT 3.0?
Yes. We are certified, have a converter and can provide LDT 3.0 data.
Is QuickLIS certified?
Yes. QuickLIS is certified for laboratory data communication.
Which operating systems does QuickLIS support?
QuickLIS is compatible with all Windows operating systems supported by Microsoft and all macOS versions supported by Apple. We would be happy to review your case. Just contact us.
Discover more features of QuickLIS